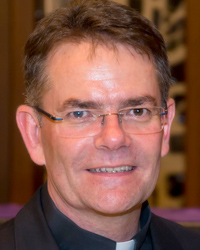 Richard Leonard, SJ
Richard Leonard, SJ, is a Jesuit of the Australian Province. He is the director of the Australian Catholic Office for Film & Broadcasting and a consultant to the Australian Catholic Bishops' Media Council. He combines his film scholarship with an active writing and international lecturing career in the areas of liturgy, cinema, culture, and religion. He has a master's degree in systematic theology and a doctorate in cinema studies.
God does not send plagues
to teach us things,
though we can learn from them.
Richard Leonard, SJ
Some Christians seem to have a very limited image of the Holy Trinity: nasty God the Father in heaven; sweet, lovely Jesus ... and the bird! While the creeds teach that there is one God in three persons, they act as one in creating, saving and inspiring. In John's Gospel Jesus says he does nothing on his own (5:30); "the Father and I are one" (10:30); and "to have seen me is to have seen the Father" (14:9). Christians believe that Jesus came to fulfil the Old Testament; they believe, too, that everything in the Old Testament should be interpreted through the revelation of God in Jesus Christ.