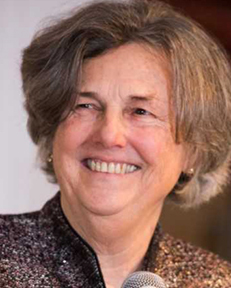 Phyllis Zagano
Dr. Zagano is Senior Research Associate-in-Residence and Adjunct Professor of Religion at Hofstra University. She joined Hofstra University in 2002, Her courses have included "Mysticism and the Spiritual Quest," "Life, Death, and Immortality," and "History of Irish Spirituality."
Dr. Zagano holds a B.A. from Marymount College, Tarrytown, NY, the Ph.D. from the State University of New York at Stony Brook, and three master's degrees, in communications (Boston University), literature (Long Island University), and theology (St. John's University).
Dr. Zagano is the author or editor of twenty-three books in religious studies, including Holy Saturday: An Argument for the Restoration of the Female Diaconate in the Catholic Church (Crossroad, 2000), winner of Catholic Press Association and College Theology Society Annual Book Awards and Women & Catholicism: Gender, Communion, and Authority (Macmillan, 2012), (Catholic Press Association Book Award).
Dr. Zagano's recent books include Women Deacons: Past, Present, Future (with Gary Macy and William T. Ditewig) (Paulist Press, 2011), Women in Ministry: Emerging Questions on the Diaconate (Paulist Press, 2012), Mysticism and the Spiritual Quest (Paulist Press, 2013), Ordination of Women to the Diaconate in the Eastern Churches (translations of essays by Cipriano Vagaggini) (Liturgical Press, 2013.), and Women Deacons? Essays with Answers (Liturgical Press, 2016). Her Women: Icons of Christ will appear in January 2020 from Paulist Press.
Her work has been variously translated into Bahasa Indonesian, Czech, French, Italian, Portuguese, and Spanish. The Spanish translation of her best-selling book On Prayer: A Letter for My Godchild won a 2004 Catholic Press Association Book Award. She edited the Liturgical Press "Spirituality in History" anthologies: The Dominican Tradition (2006); The Benedictine Tradition (2007); The Ignatian Tradition (2009); and The Franciscan Tradition (2010). The Carmelite Tradition (2011).
Her visiting fellowships and professorships include Fulbright Senior Specialist, Waterford Institute of Technology, Waterford, Ireland (Spring, 2016), religious studies and spirituality; St. Leo University, Tampa, FL (Spring 2010), spirituality and the history of women in the church; Fulbright Fellow, Mary Immaculate College, Limerick, Ireland (Spring 2009), women in the church; Yale Divinity School (Fall 2005), ecclesiology; Aquinas Chair of Catholic Studies St. Thomas Aquinas College, Sparkill, NY (Spring 2005), spirituality and contemporary Catholicism.
Dr. Zagano is a founding co-chair of the Roman Catholic Studies Group of the American Academy of Religion, and a member of the American Catholic Philosophical Association, the Society for the Study of Christian Spirituality, the College Theology Society, and the Catholic Theological Society of America. She has taught at Fordham and Boston Universities, and worked as a researcher for the Roman Catholic Archdiocese of New York. Her biographical listings include Who's Who in America.
Her award-winning twice-monthly column was nationally syndicated by the Religion News Service until 2010 and now runs in the National Catholic Reporter and in other journals around the world. She has published hundreds of articles and reviews in popular and refereed journals, and for five years hosted a monthly talk show on the National Public Radio affiliate station, WBUR-FM. Her papers are collected at the Gannon Women and Leadership Archives, Loyola University, Chicago, Illinois.
In 2012, she received the Catherine of Siena Distinguished Layperson Award from Voice of the Faithful. In 2014, she received the Isaac Hecker Award for Social Justice from The Paulist Center, Boston.
On August 2, 2016, Pope Francis appointed her to the Papal Commission for the Study of Women in the Diaconate, which convened in Rome November 2016.