Father Richard Leonard, SJ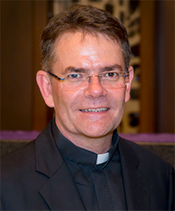 Based in North Sydney, Fr. Richard Leonard, SJ, directs the Australian Catholic Office for Film and Broadcasting. He has undergraduate degrees in arts, education, and theology, as well as a master's degree in systematic theology. Richard did graduate studies at the London Film School at Covent Garden. In 2004 he graduated with a PhD in cinema studies from Melbourne University.
He combines his film studies with an active writing and lecturing career in the areas of liturgy, cinema, culture, and religion. He has lectured across Australia, and in England, Ireland, Scotland, Italy, Pakistan, India, and the United States.
In 2006 he published Movies That Matter: Reading Film through the Lens of Faith (Loyola University Press, Chicago).
His books for Paulist Press are:
• Preaching to the Converted: On Sundays and Feast Days throughout the Year (2007).
• Where the Hell Is God? (2010).
• Why Bother Praying (2013), about which William A. Barry, SJ, commented, "Richard Leonard has done it again, tackled a difficult theological and spiritual question with honesty, deep knowledge, humor and a warm heart."
• What Are We Waiting For? Finding Meaning in Advent & Christmas (2014).
• What Are We Doing on Earth for Christ's Sake? (2015).
• What Are We Hoping For? Reflections on Lent and Easter (2016).
• What Does It All Mean? A Guide to Being More Faithful, Hopeful, and Loving (2017). About this book, James Martin, SJ, has commented, "Richard Leonard is one of the best writers, best preachers, and best explainers in the Catholic Church. If any of my friends, Catholics or otherwise, asked me a tough question about faith, prayer, suffering, free will, heaven, hell, or purgatory, I could think of no better place to turn than his comprehensive, inviting, and accessible new book."